Best Luxury Hybrid & Electric Cars for 2022

Going green doesn't have to mean going slow. Thanks to advancements in technology, today's hybrid and electric vehicles not only spend less time at the pump — they also deliver pulse-pounding performance in addition to groundbreaking eco-focused features. If you're curious about the best luxury hybrid and electric vehicles available on the market, Blue Grass Motorsport has assembled this collection of top picks in the segment.
---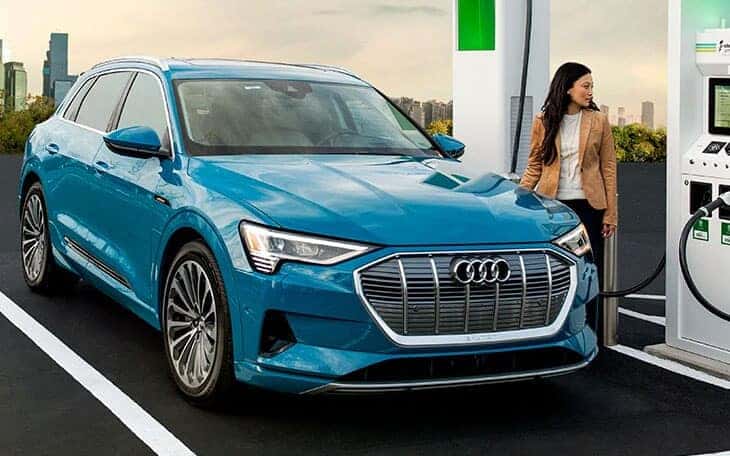 Audi
Audi e-tron and Plug-In Hybrid models are engineered with the same award-winning DNA that has made the brand synonymous with performance, prestige, and innovation. The family of e-tron all-electric vehicles benefits from an e-quattro® all-wheel drive system, intelligent technology, and advanced charging capabilities. Similarly, Audi Plug-In Hybrid models deliver enhanced efficiency compared to gas-powered counterparts and superior performance for short and long-haul journeys. Audi continues to pioneer the advancement of electrified performance and innovation through a growing portfolio of PHEV and EV models.
Audi EV Models
Audi PHEV Models
---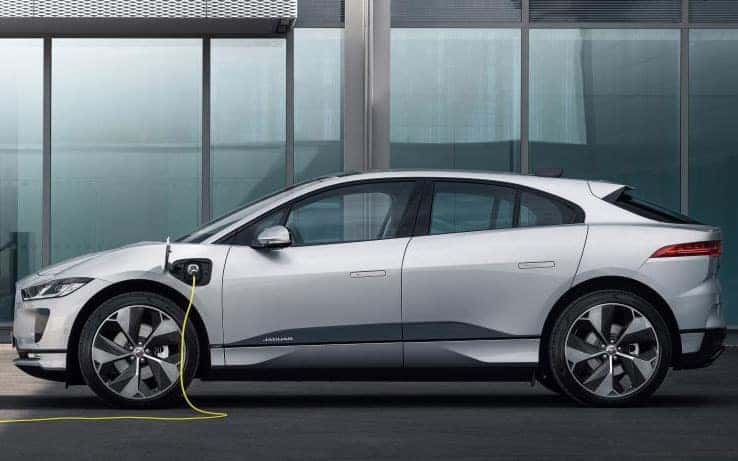 Jaguar
As the first pure-electric Jaguar vehicle in history, the I-PACE adds a combination of remarkable efficiency and thrilling performance to the brand's crossover lineup. The I-PACE features twin electric motors in addition to all-wheel drive power delivery. using a 100-kW DC fast charger, the battery is capable of reaching an 80% charge in just 40 minutes. You can rocket the I-PACE from 0 to 60 in a blistering 4.5 seconds. Not only is the seductive styling of the Jaguar I-PACE eye-catching — it's also highly aerodynamic with a low-drag coefficient of 0.29 Cd to help it slice through the air. Find your inner peace inside the I-PACE which boasts a clean and uncluttered design complete with tactile features and sweeping lines.
Jaguar EV Models
---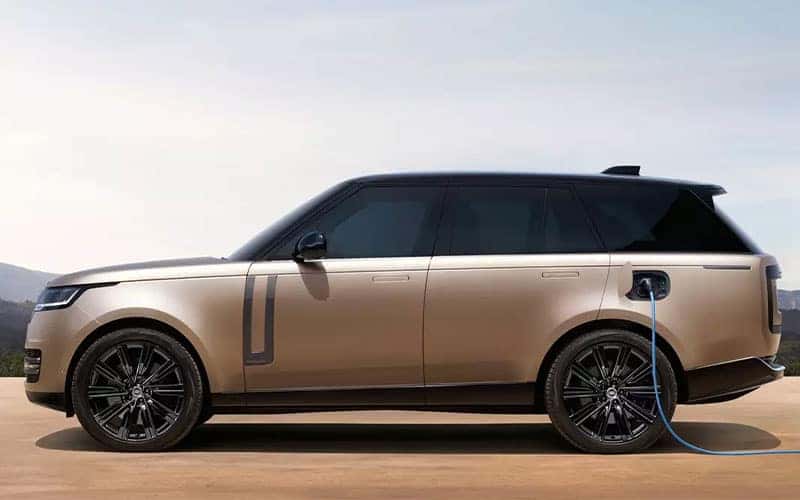 Land Rover
Known worldwide for its capability, commanding presence, and craftsmanship – Land Rover also offers a growing portfolio of electrified plug-in hybrids, mild hybrids, and upcoming pure EVs. Through the combination of its proven family of Ingenium Gas engines and groundbreaking electrification, Land Rover PHEV and EV models deliver enhanced performance and efficiency that set the standard for the industry. Don't think that going electric means that you'll have to sacrifice on the go-anywhere performance capability that's made Land Rover an off-road icon. Quintessential British design paired with first-class comfort features makes Land Rover MHEV, PHEV, and EV models true leaders in the luxury SUV segment.
Land Rover MHEV Models
2023 Range Rover Evoque MHEV – Starting at $55,300 MSRP
2023 Land Rover Defender MHEV – Starting at $64,000 MSRP
2023 Range Rover Velar MHEV – Starting at $64,900 MSRP
2023 Land Rover Discovery MHEV – Starting at $65,300 MSRP
2022 Range Rover Sport MHEV – Starting at $70,900 MSRP
2022 Range Rover MHEV – Starting at $101,000 MSRP
Land Rover PHEV Models
2022 Range Rover PHEV – Starting at $104,900 MSRP
---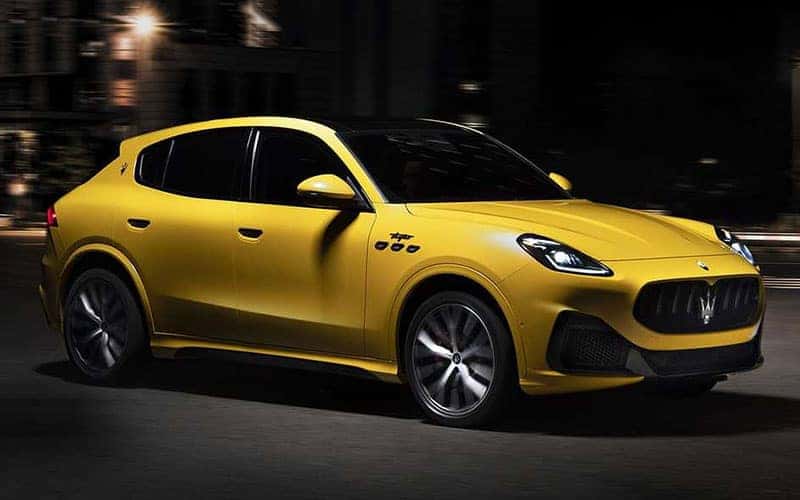 Maserati
With the introduction of the compact Maserati Grecale, the brand takes its first steps towards an electrified future. While passionate performance and impeccable Italian design have remained hallmarks of the Maserati brand for decades, electric powertrains push the boundaries of what's possible. Base trim levels of the Grecale benefit from a 48-volt mild-hybrid powertrain as standard, producing a balanced 300 horsepower and 332 lb-ft of torque. Sitting atop the range is the Grecale Folgore, a pure EV that's powered by an exhilarating 400-volt powertrain. Maserati has also recently announced its commitment to electrification, with several new electric models arriving in the next several years.
Maserati MHEV & EV Models
2023 Maserati Grecale – Starting MSRP TBA
---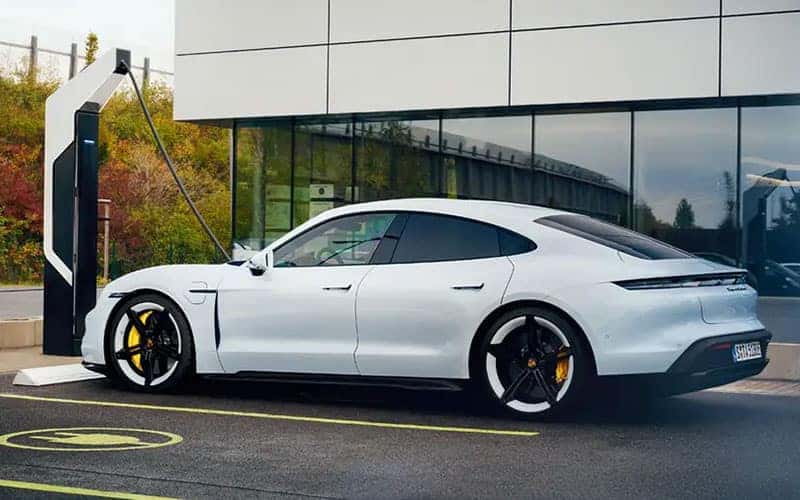 Porsche
Known for seamlessly developing track-bred technology and translating it into some of the world's most coveted sports cars, Porsche has remained a pioneer in terms of electrification. Both the popular Porsche Cayenne and Porsche Panamera have launched E-Hybrid variants, each equipped with advanced plug-in hybrid powertrains that allow drivers to enjoy the best of both worlds. Porsche E-Hybrid models offer a usable all-electric range, enhanced performance, and unique styling cues that differentiate them from their conventional counterparts. However, drivers searching for the ultimate EV experience should look no further than the all-electric Taycan. As the first all-electric sports car in the history of the Porsche brand, the Taycan offers blistering acceleration along with an impressive all-electric range that's at home both on and off the track.
Porsche PHEV Models
2022 Porsche Panamera E-Hybrid – Starting at $105,000 MSRP
2022 Porsche Panamera Sport Turismo E-Hybrid – Starting at $109,000 MSRP
2022 Porsche Cayenne E-Hybrid – Starting at $83,300 MSRP
2022 Porsche Cayenne Coupe E-Hybrid – Starting at $88,600 MSRP
Porsche EV Models
2022 Porsche Taycan – Starting at $82,700 MSRP
2022 Porsche Taycan Cross Turismo – Starting at $83,700 MSRP
---
Electify America
In an effort to bolster Zero Emission Vehicle (ZEV) infrastructure, increase education and outreach on the subject, and improve access to these groundbreaking vehicles — Electrify America is investing $2 billion over the next 10 years. As part of the plan, Electrify America will establish a network that includes non-proprietary electric vehicle chargers (CCS, CHAdeMO and J1772 standards) at over 650 community-based sites and nearly 300 highway sites across the country. With the goal of making coast-to-coast all-electric travel more accessble, these sites will be located no more than approximately 120 miles apart and on average most will be just 70 miles apart. To help bolster the appeal of electric vehicles, a national awareness and education campaign will be developed and directed at car buyers not yet driving EVs. The future of hybrid and electric travel has never been brighter.
---
---