K40 Radar & Laser Protection System

Have you been searching for a discreet, non-intrusive solution for radar and laser protection for your Porsche? Our team at Blue Grass MOTORSPORT is proud to be a certified installer of K40 Electronics Radar & Laser Detectors. These state-of-the-art systems include full component integration that provides maximum performance while preserving the factory appearance of your vehicle. Engineered with industry-leading signal strength and threat detection, K40 Electronics systems deliver total wireless control and convenience.
As an authorized installer, Blue Grass MOTORSPORT has a team of factory-trained technicians that have the training and experience necessary to properly install your radar or laser system while preserving warranty compliance. Radar and laser technology requires precision and attention to detail due to the intricate nature of these systems. While taking into account the specifics and complexities of your Porsche vehicle, our team is your top destination for K40 radar and laser protection and product installation.
---
K40 Electronics Platinum Series Radar & Laser Protection Systems
Crafted specifically to cater to the unique characteristics of your vehicle and your personal driving style, K40 Electronics radar and laser systems are custom-installed for a seamless fit inside your vehicle. Equal parts sleek and informative, the in-dash LED notifications alert you to possible targets and threats with maximum directional range and selective sensitivity based on the situation. Additional advantages of K40 Electronics systems are listed below.
GPS Intelligence
Eliminate false alerts and get customizable notifications
Personal Database
Mark and store specific GPS locations for individualized alerts
Long Range
Exclusive LNA tech enhances range performance by up to 40%
K-Band Filter – Removes alerts from radar-based safety features
K and Ka-Band Segments – Reduces false alarms
Auto-Filter – Sensitivity automatically adjusts based on your speed
Mark to Mute – Silence false stationary alerts
Quiet Ride – Select when you want to hear an alert
Discreet Installation
OEM-like custom installation by trained professionals
Expandable
Prepped for emerging technologies with future-ready capabilities
Laser Defusers
K40 Defusers are Laser Diode equipped for both detection and protection
Our team of experts at Blue Grass MOTORSPORT is standing by to help you customize a K40 Electronics Radar & Laser solution for your vehicle today. We're confident that we can help you choose the perfect system for your personal needs and driving habits. Contact us today!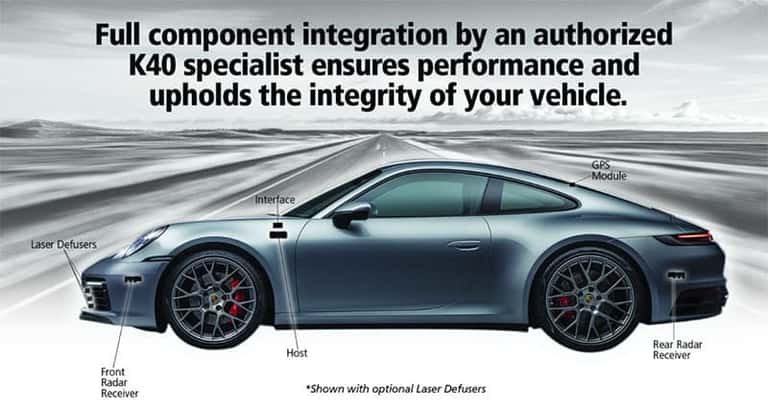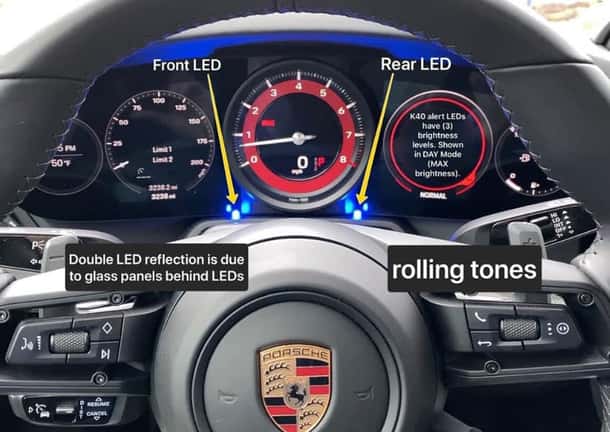 ---
Frequently Asked Questions
What's the difference between police laser and police radar?
Radar is a radio frequency that spreads out over a great distance once it leaves the radar gun. This explains why detectors are able to pick up police radar signals from up to 10 miles away. In addition, police can drive and receive radar speed readings on vehicles while they are in motion. Conversely, laser works at much shorter ranges (typically between 800 and 2,000 feet). Officers must be stationary and cannot operate laser through glass. However, laser provides no advance warning and can pinpoint a specific vehicle even within a pack of cars. Both require specialized systems to identify and avoid these signals.
What's the difference between sensitivity and selectivity?
A radar detector's ability to pick up signals from police radar from a long distance is known as its sensitivity. The detector's ability to filter out and reject non-police signals is referred to as its selectivity. Specialized software included with K40 Electronics products use both of these settings to provide accurate and reliable notifications to help you respond in a moment's notice.
Are radar detectors legal?
Radar detectors are legal for use on non-commercial vehicles in 49 states. Virginia, Washington D.C., and Canada have banned the use of radar detectors. Commercial vehicles are also prohibited from using radar detectors in all states. You also cannot use radar detectors on any military base or military installation.
---