Top Luxury EV Models from Audi, Porsche, and Jaguar | Blue Grass Motorsport

With the arrival of all-electric vehicles, more and more drivers have considered making the switch to an EV for a variety of reasons. One of the biggest attractions to an all-electric lifestyle is the fact that you'll never spend another dime on gasoline at the pumps. Perhaps you're passionate about performance and are drawn to the instantaneous acceleration of an EV. Especially important to luxury shoppers, you can't ignore the seamless refinement and effortless power delivery of an all-electric model.
Regardless of the reason, luxury EVs continue to grow in popularity. With more and more choices joining the market each year, choosing the right model for your lifestyle can seem difficult at first. That's where Blue Grass Motorsport wants to help! We've named our top picks for the best luxury electric vehicles on the market so you can make an informed buying decision. Let's get started!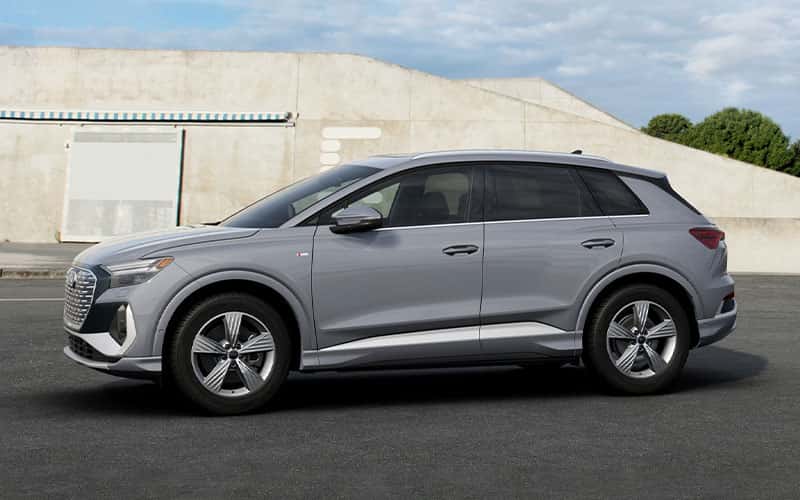 Best Compact Luxury EV Crossover – Audi Q4 e-tron
Starting at $49,800 MSRP
Maximum EV Range – 265 Miles
Searching for an affordable option to join the all-electric lifestyle? The Audi Q4 e-tron represents our top pick for the best compact luxury EV crossover thanks to its attractive starting price, outstanding all-electric powertrain, and an impressive lineup of interior technology and comfort amenities. With a combined system output of up to 295 horsepower, the Q4 e-tron can rocket from 0 to 60 MPH in just 5.8 seconds (with Boost Mode engaged). Its high-capacity 82 kWh battery is positioned low within the chassis, providing a balanced center of gravity. The total all-electric driving range of the Q4 e-tron is 265 miles, perfect for a day trip or a week's worth of commuting to work. Even more impressive, it takes as little as 36 minutes to charge from 5% to 80% capacity at a public DC fast charging station. Step inside the cabin and you'll find yourself surrounded by first-class amenities including the available Audi Virtual Cockpit, Alcantara upholstery, SONOS Premium sound system, and ambient interior lighting.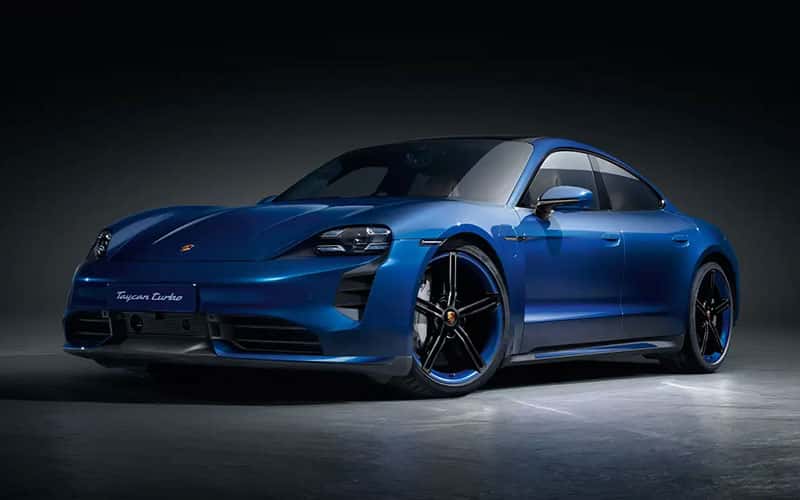 Best Luxury EV Sports Car – Porsche Taycan
Starting at $86,700 MSRP
Maximum EV Range – 246 Miles
Making history as the very first all-electric vehicle from the Porsche brand, the exhilarating Taycan is proof that driving an EV no longer means sacrificing performance or driving dynamics. Infused with quintessential Porsche sports car DNA, the Taycan is engineered with a battery tucked low within the chassis for balanced handling and agile responsiveness. Power comes in the form of a standard all-electric powertrain featuring two permanent magnet synchronous motors with a 79.2 kWh battery or available 93.4 kWh Performance Battery Plus. This sophisticated unit powers the entire Taycan range with total power ratings that include 402 HP (Taycan), 522 HP (Taycan 4S), 590 HP (Taycan GTS), 670 HP (Taycan Turbo), or 750 HP (Taycan Turbo S). Combined with a maximum EV range of up to 246 miles and DC fast charging capabilities, the Taycan provides you with a combination of practicality and thrills that can't be matched by a conventional gasoline-powered vehicle. Other interior highlights of the Porsche Taycan include Porsche Communication Management (PCM), Porsche Connect featuring specialized EV modes, Porsche InnoDrive including adaptive cruise control, and much more.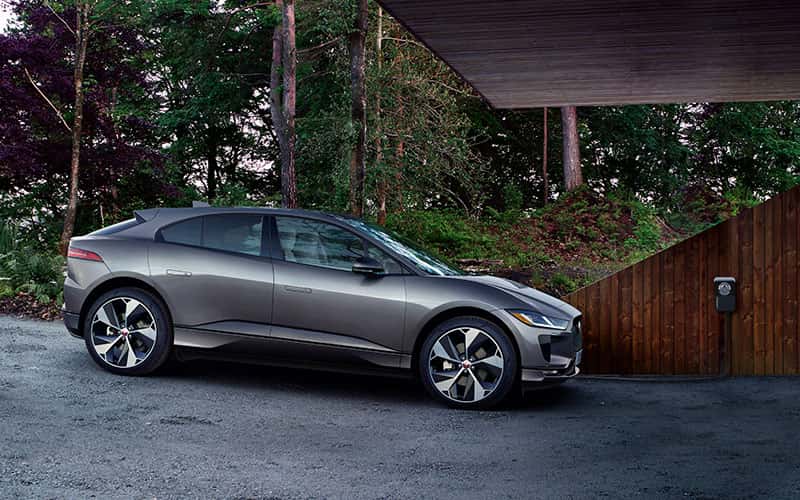 Best Midsize Luxury EV Crossover – Jaguar I-PACE
Starting at $71,300 MSRP
Maximum EV Range – 234 Miles
Marking the beginning of an entirely new chapter in the history of the Jaguar brand, the exhilarating all-electric I-PACE serves as the foundation for the electrified future of driving. Blurring the line between a sports coupe and a capable crossover, the I-PACE features sleek styling to help you stand out from the ordinary. Power comes in the form of a standard 90 kWh Lithium-Ion Battery and two permanent magnet synchronous electric motors, producing a total system output of 394 horsepower and 512 lb-ft of torque. In addition to a 0 to 60 time of a blistering 4.5 seconds, the I-PACE also boasts an impressive 234-mile maximum range. Using its 50 kW DC rapid charging capability, it takes only 85 minutes to charge from 0 to 80% capacity. Step inside the futuristic cabin of the I-PACE and you'll discover plenty of forward-thinking innovations like its Pivi Pro infotainment system with an upper 10-inch touchscreen and a lower 5.5-inch touchscreen with multi-function dynamic dials. Onboard Cabin Air Ionization helps cleanse the air and eliminate negative ions inside the Jaguar I-PACE.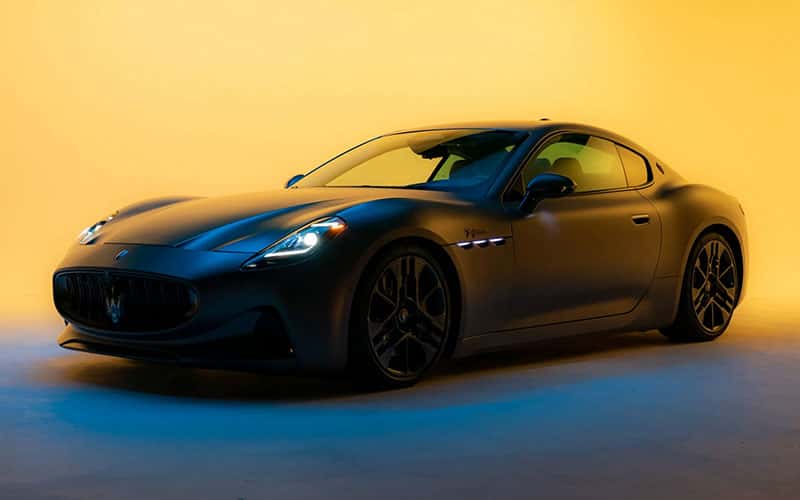 Upcoming Luxury EVs – Maserati GranTurismo Folgore
Starting Price TBA
Maximum EV Range – TBA
The next evolution of one of the world's most celebrated Italian sports cars, the Maserati GranTurismo Folgore ushers in the next generation of EV performance vehicles. The name "Folgore" means "lightning" in Italian, a not-so-subtle nod to its sophisticated all-electric powertrain. Engineered with technology derived from Formula E, this advanced powertrain includes an 800-volt battery that powers three potent 300-kW permanent magnet motors. The end result? An estimated total system output of 818 horsepower and a 0 to 60 time of an astonishing 2.7 seconds, faster than any gasoline-powered variant of the GranTurismo. Staying true to its roots as a four-seat grand touring luxury coupe, the GranTurismo Folgore features sustainable interior materials like upholstery made from recycled fishing nets recovered from the ocean. Poised and ready to unleash its all-electric fury, the Maserati GranTurismo Folgore is expected to cause quite a stir upon its release.